We are lucky to have a life-long resident and avid town historian that happens to live right next to the Marsh!  We invited John Falla to our classroom, to tell us about the town history and the changes to the Marsh and to Main Street that he's seen during his lifetime.
The village of St George has a lot of history; things such as buildings, population and land have changed over the years.  In the 1700's, St George wasn't St George, it was Cushing.  Before then, it was a no man's land, with very little settlement because of the French and Indian War.  It wasn't until 1803, when it was "Incorporated" that it became St George. The population of people slowly started to grow.  In the 1800's a person could find work in the quarries, or boat building.  Some of the granite went into Rockland to build that large granite pillar at Oceanside High School.  The land was being cleared and large shipments of firewood were shipped to urban areas such as Boston.  The town grew and around the 1880's the population was at an all time high.  When Professor Edward J de Smedt invented asphalt and it was used instead of cobblestone, the quarry jobs and shipbuilding in town started to die out.
If you went back in time, just fifty years ago and walked to the Marsh and around the neighborhood of Main Street, what differences would you notice, compared to today?
(Photo courtesy of John Falla and the Marshall Point Lighthouse Museum Collection)
There were lots of differences.  For starters, there were a lot less people, but more buildings.  The population was around 1,500 people. As for buildings,there was a dance hall where the salon is now, and an apartment and garage near where the Jackson Memorial Library and the school driveways are. Another building with an apartment upstairs was built right over the stream coming out of the Marsh.  It's bathroom emptied out right into the stream!  There used to be an ice house along Main Street and we saw a picture that showed a boat building shed along the shore of Ripley Creek, between the creek and where the Town Office is now.
(Photo from The St George Peninsula by Tammy L. Willey, Arcadia Publishing, 2005)
There was a school in almost every neighborhood on the peninsula, and that adds up to almost twenty school districts. Of course they were very small.  Our school was not even here.  Today we have a great school with almost two hundred students that was built in 1953.
In earlier times, people were more spread out and lived closer to the water where they could fish.  There were different ways off the peninsula than today.  Most of the roads were all dirt.  Long Cove Road went through to English Town Road.  Now it's a four-wheeler trail.  Years ago, Watts Avenue went through to Ponderosa Playground. That trail is still usable today.
The marsh is much shallower than it used to be, and it used to have a run of alewives.  Fifty years ago the water level was a couple feet higher because they could change the water level using wood slats.  They did this because they made ice and you want big chunks.  In the 1970's the alewives couldn't make it into the Marsh and people were catching them in the creek.  They were last seen in the 1980's. People wanted to be able to fish on the Marsh so in the 1980's they put pickerel in, which makes them an invasive species because they weren't here in the beginning.  The alewives have started to come back last year because the metal culvert got replaced with a cement culvert two years ago and the state put 500 fish in the Marsh for several springs. Tourism and lobstering are most of our jobs now and our population is over three thousand. We have more trees now than ever.
One cool thing Mr. Falla brought with him were 1963 aerial photos that were used to make the tax maps for the town. We had fun looking at our own houses and seeing the differences between now and then.  We could see the difference in the water level of the marsh, where buildings were and weren't and how some places were cleared fields.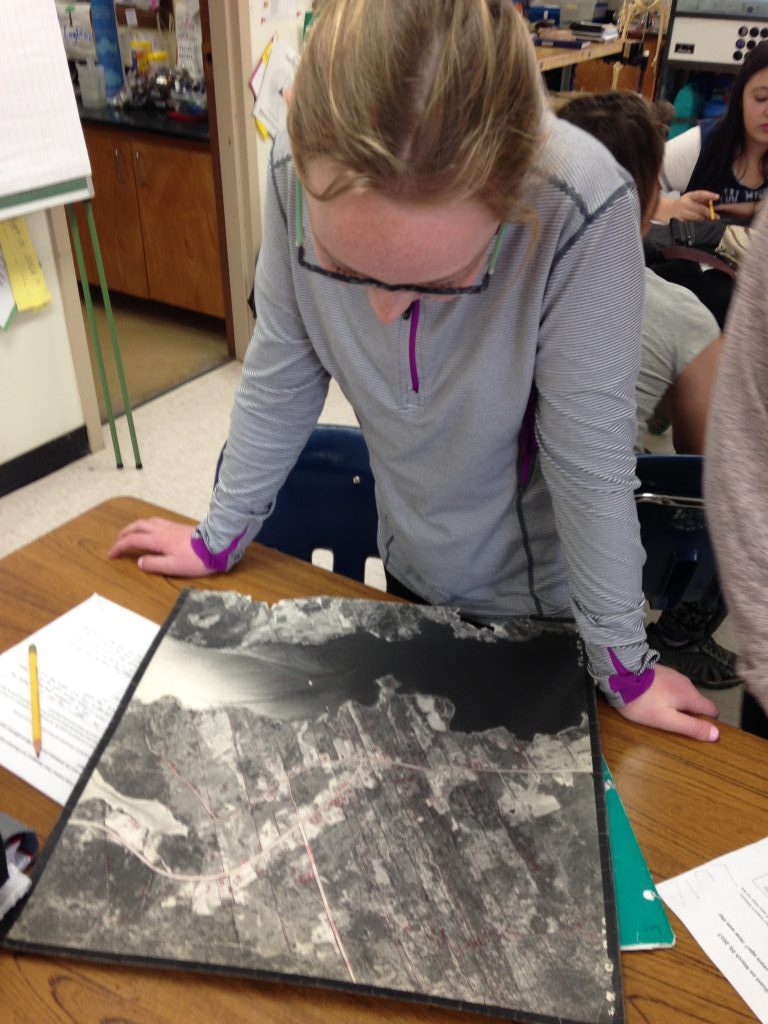 Our many thanks to John Falla, retired Town Manager, historian and lifelong resident!
Written by Gwen, Zeke, Mya, Henry, Willow, Taylor, Leah, Jack, Shaun, Addie, Madison, Lute, Mrs. England